Introduisant Sparx Systems Cloud Services

Webinaire October 2015
Dans ce webinaire, vous apprendrez à:

Connectez-vous à un modèle d'Enterprise Architect via le nuage en utilisant une URL simple
Créez votre propre service cloud sécurisé et la base de données Firebird
Introduire des technologies, y compris le RAS et OSLC.

Découvrez comment créer, gérer et configurer le service Cloud de Sparx Systems afin de fournir un accès au modèle sécurisé et pratique partout dans le monde.

Utiliser des outils de modélisation collaboratifs puissants tels que le service d'actifs réutilisables (RAS) et Open Service for Lifecycle Collaboration (OSLC).

Scott Hebbard
Explorez le modèle de données d'exemple
Nous avons fourni l'exemple de modèle Enterprise Architect utilisé dans le webinaire. Le modèle contient une série d'exigences et de cas d'utilisation pour un système bancaire électronique. Le modèle a été exporté en tant que fichier XMI, afin qu'ils puissent être facilement ajoutés à un modèle de Cloud vide.
Exemple de modèle en format XMI: banking-requirements.xml
Questions de l'auditoire
Cliquez sur une question pour voir la réponse.
Général
What Version of Enterprise Architect was used throughout the demonstration?
Enterprise Architect 12.1 beta (Build 1221).
Where can I download the Sparx Systems Cloud Services Application?
How much is it to implement the Cloud Service?
There is no additional cost. So long as you have a current subscription, the Cloud Service is included in the Corporate Edition and above of Enterprise Architect.

Enterprise Architect pricing information is available via the Sparx Systems website:
www.sparxsystems.fr/products/ea/shop/
Where can I find out more information about the Sparx Systems Cloud Service?
Firebird
Can we use Firebird Database in an enterprise setting?
Yes, Firebird can be used in an enterprise setting. Firebird is a free, open source rational database that runs on a variety of platforms. Firebird offers great concurrency, scalability and performance. It has been used in production systems, under a variety of names, since 1981. It is very sophisticated and works extremely well with Sparx Systems Cloud service technology.

To discover more about the Firebird database, please visit the following website:
www.firebirdsql.org/en/about-firebird/
Can Firebird support about 100 users each accessing the model in Firebase DB?
Yes. However, if you are working on a large scale model you may consider using a different ODBC connection.
Other than Firebird, what other database technologies can be used for the cloud based EA repository?
You can set up your project on a repository in:
SQL Server 2000, 2005, 2008 or 2012
SQL Server Express 2005 or 2008
MySQL 5
PostgreSQL 7, 8 or 9
Adaptive Server Anywhere 8 or 9, or SQL Anywhere 10, 11 or 12
Access 2007 or
Oracle 9i, 10g, 11g or 12c
Enterprise Architect supports a large number of different database technologies. Firebird was chosen for the webinar because it is so easy to use.
Are TSL connections supported?
Yes. A cloud server can be configured to ensure all communication is encrypted. Using standard TLS/SSL protocols, you can be sure that your data is not intercepted during transmission on insecure networks.
Is it possible to share diagrams via the cloud service?
Yes. You can share everything that is available in your Enterprise Architect model, be it a package, diagram or complete model.
How does a Cloud Service differ from a remote database?
A remote database will require users to understand ODBC drivers and set-up a database connection on their local machine. Using a Cloud connection, all you need is an address, model name and Port number, which makes connection much simpler. All the management is done by the administrator, which makes it far simpler for the end user.
The Sparx Systems Cloud Services solution provides seamless access to Enterprise Architect repositories (models) from anywhere in the world, providing high performance for remote access, secure encrypted links and optimization for high latency WAN connections.
Enterprise Architect models are stored in databases. Prior to the introduction of Cloud Services Enterprise Architect required users to install the appropriate drivers for the database and create a connection. Enterprise Architect would then use that connection to connect directly to the database and run the model.
A Remote Database will require the end user to understand some basic information about data Sources and ODBC Connections. Every time a users changes computers, they will need to set up the remote database again. The Cloud Connection makes it much simpler to connect to a model.
A cloud server offers benefits whenever:

You would like to reduce the set-up requirements for each of your users
You would like to expose any models outside of a private network
Any users are connecting over slow connections
Both a remote database solution and cloud service will access an Enterprise Architect model. Each approach has its relative merits and is suggested you read the Help Topic "
Introducing the Cloud Server
" to learn more about the advantages of using a Cloud Server.
If we are using the Remote Database, is it easy to move to the Cloud?
Yes. Use the Cloud Service Management Client to add a database or connect to an existing data source, including a remote database. Enterprise Architect makes it very easy to move to the Cloud. To connect to an existing database, specify the connection string to the database. If you are running the admin client on the same machine as the server you can click on the ellipsis button to open the 'Data Link Properties' dialog to build the connection string.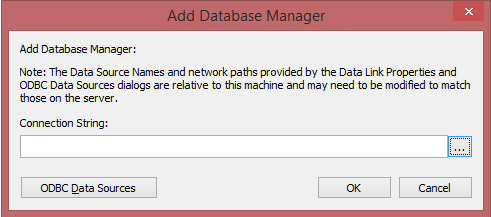 More information on connecting to a DBMS repository is available via the Enterprise Architect User Guide: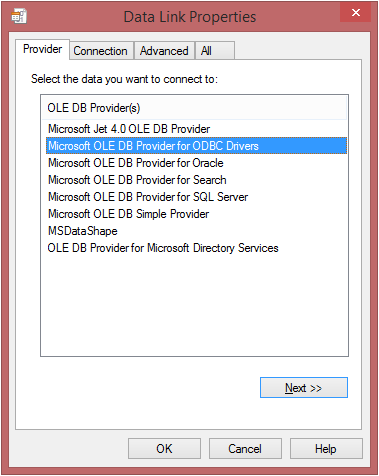 Can we just use the existing projects in the Database or do we need to migrate the projects?
Yes, the Cloud Service can link to your existing DBMS projects.
OSLC
What value does OSLC provide?
Can OSLC be used for elements other than requirements?
No. OSLC is designed to manage requirements.
Is there documentation on importing custom requirements from IBM Rational DOORS into Enterprise Architect using OSLC?
Can Cloud Services be used with Enterprise Architect 11?
Reusable Asset Service
When importing via the Reusable Asset Service, can you indicate how many levels of nested relationships you want to import?
No. The Check Dependency button does not allow you to indicate how many levels of nested relationships to import. Enterprise Architect will automatically check for any package dependencies.
How do I manage changes to Reusable Asset Service packages?
The Reusable Asset Service can store multiple versions of an Asset in the same storage. It is also possible to update an Asset and use Baseline comparison to monitor and manage change. Right Click the Asset in the RAS and select "Compare with Package in Model". This will allow you to track any changes from the standard and manage via a Baseline Comparison.
To see the Baseline Comparison used in the Reusable Asset Service, please view the following video at the 3:30 minute mark:
http://www.sparxsystems.com/products/ea/11/video/ras/ras.htm
Is it possible to update an item stored in the Reusable Asset Service?
Yes. For more information, please refer to the Help Topic entitled Update an Asset.
If you import a package from the Reusable Asset Service, can you make changes to the elements?
Yes. You can edit the imported elements and use baseline comparison features to identify any differences between the Asset and the local copy.
In the config file, what does the server password mean?
SERVER_PASSWORD is the password to protect the administration functions of the server.
Note: This can be changed within the Management Client, which means a full server restart will not be necessary.